6.-16.9.2018
Designmuseon ja Arkkitehtuurimuseon väliselle Museopihalle kohoaa HDW:n ajaksi näyttely nykymuotoilun liikkeistä nuorten tekijöiden näkökulmasta. EMOVEOn tekijät toimivat oppaina näyttelyssä ja kutsuvat vierailijat kanssaan tarkastelemaan muotoilun liikkeitä työpajoissa ja keskusteluissa.
EMOVEOsta englanniksi:
EMOVEO
We distance ourselves from icons and approach one another. We clean our desks and studios and wrap things up. We carry our practices into an empty space and start from scratch with a conversation. We are moved by change. We are seeking a place in motion, addressing emotion and directing it into a movement that shapes materials, artefacts, practices – and us.
EMOVEO is an art and design exhibition by 11 designers who are Aalto University MA students, with 10 different nationalities. During Helsinki Design Week, the museum yard of the Museum of Finnish Architecture and the Design Museum will host an exhibition about movements in contemporary design from young makers' points of view.
Designers:


Camilo Cortes
Moving bodies. Ceramic, plaster.
Moving bodies is a material experiment, with the goal of conducting trials on the movement of materials during the kiln firing process. The movement captured in the pieces display the collaborative work between the artist and the material. The materials are specifically designed and developed to move freely in high temperatures. The unique pieces present the interplay between the intention of
the artist and the will of the material.

C.Alves Ludovico
Vacuum, my dear. Aluminium, Acrylic, vacuum cleaner components.
As a child, I got a very relaxing vibration from the whirring of a Vacuum cleaner, hairdryer, fan and other house appliances. Often, my mom recalls how I used to fall asleep on the top of our old vacuum. Vacuum, my dear is a unique piece, the first from a collection of five, that pays homage to home appliances. Wanna buy some extra time for yourself? Take advantage of children's motion by adding labor to their play time and keep your floors always clean without lifting a finger!
A collaboration with the illustrator Øyvind Rustad Johansen.

Erin Turkoglu
Solidum. Glass, concrete, foam, silicone.
Born out of frustration with the lack of space, materials and tools, the collection of limited edition furniture pieces are sculpted out of basic construction materials, elevating their inherent qualities while displaying the results under clean cut glass surfaces. The forms are the direct result of using hand tools, chopping and stacking, embedding the mark of each motion made by the artist in the material. The architectural forms create an interplay of solidity and transparency, lightness and permanence and challenge the preconceived notions about material value in contemporary art and design.

Ekaterina Krotenko
Shaped by Fire. Glass, carbonized wood.
The project Shaped by Fire explores material-led creative serendipity, when molten hot glass captures the tiniest details of a momentary structure of burning wood resulting in a unique surface. The technique of achieving carbonized wood texture in glass is inspired by Timo Sarpaneva's Finlandia collection from 1965-71. Whereas this contemporary series of glass accompanied by smoked wooden elements
represents modern aesthetics and movement in time, metamorphosis and reminiscence in crafts and design.

Josh Krute
Ghost. Oak, paper, relief ink.
Ghost merges traditional printmaking techniques, furniture design and woodworking. Wooden artifacts and relief prints comprise a "printmaking tool-kit". The piece entitled Stööl is both a basic seat and a tool set to hand press and transfer inked wood-grain patterns onto paper. This pattern-making concept stems both from action-painting and traditional relief printmaking. The form and shape of the tool require full body movement to transfer surface pattern and the path of the form. This new system of pattern-making is both systematic and abstracted, offering a new context and aesthetic of wood, it's natural characteristics and its manual, formal intervention.

Kati Peltola
Heirloom. Brass, glass, human hair.
Heirloom is a collection of curiosities studying movement. What would you take with you if you needed to move far away? Jewellery travels with us through time and space and is often a physical memory of those who have been left behind. In this project I am creating objects of desire using brass and glass, both of which are seen as relatively unprecious materials. These fragile objects are iterations of an ongoing project through which I'm learning the craft process of lampworking.

Mariana Núñez Sánchez
Cut and Paste. Cotton twine, cotton yarn, porcelain.
Cut and Paste is a handmade textile and ceramic representation of what moving from one place to another can feel like for someone. When you leave a place, relation or situation, you never erase yourself and start over from zero. You mix a bit of your old self with what the "new" is waiting to offer you; a new you is made by scraps of the past and present. Change is difficult, and for better or for worse,
we must face it with as much hope and strength as we can. This piece was inspired by traditional weaving techniques from Mexico and
Finland. The piece is based on the experience of moving out of university campus in Helsinki to move to Espoo.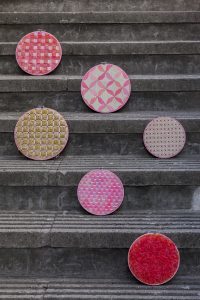 Matilda Palmu
Transition. Birch plywood, wool yarn, cotton fabric
Transition is a collection of lightweight hanging sculptures that are made from plywood and textiles interwoven with different techniques to create interesting surfaces. It's a celebration of becoming oneself and breaking the chains of other's expectations. It's a joyful play of colors and materials celebrating femininity and acceptance. It symbolizes my transition from something that I'm not into something that I am.

Mimi McPartlan
Idle Hands. Cotton fabric, silk, cotton and nylon thread.
Inspired by my favorite ceramic works by Rut Bryk, I've translated loose gridded geometry to embroidery. The material becomes feminized, the time legible in individual marks, not as apparent in mechanized medium. I want to draw attention to the hands present in all things, people present in all designs, and celebrate those techniques and materials usually deemed domestic and dainty by stretching a repeated motion to an extreme. The piece hangs low, welcoming small hands, usually restricted from exhibitions, to meet handwork. The marks of curious hands over time will leave welcome mar and imperfection.

Pedro Pablo Garcia
Pedriza. Dyed linen, porcelain and aluminium profiles.
The piece is a result of studies about material dialogs. By combining two different materials like ceramic and fabric in this tensile structure, the materials seem to exchange their physical characteristics. The ceramic becomes light and malleable while the fabric becomes rigid and heavy. The disposition of the ceramic pieces and the layers generates a floating swarm that changes with the
movement of the viewer. In this painting-sculpture the objects transform into a compositional structure. The piece is not meant to become an immovable object. The hanging system of the tiles makes it possible to move them through the fabric stripes without taking down the whole structure, allowing the piece to change generating new compositions.

Sara Moayed
O 1. Plexiglass, glass, neon gas, hydrogen gas.
This project explores the transference of neon lights from commercial setting to interior space. Neon has its own historical connotations, as traditionally used for signage and advertisement. The signs are produced by the craft of bending glass tubes into shapes. Nowadays, these light-emitting tubes are being replaced by LED lighting. Neon lights produce unique, vibrant colors that are transformative.
The emitted colored light has the potential to mix in space, create a wide pallet range and ambient effect.
In collaboration: Helsinki Design Week, Design Museum, Museum of Finnish Architecture, Aalto University