9.9.2022–12.3.2023
What if, in the future, we will be able to engage in interspecies communication, fix cities ourselves or measure emotions?
This autumn, the exhibition at Design Museum's Gallery invites you to explore alternative scenarios for the future.
The exhibition is based on the Weak Signals report by Sitra that identifies and interprets the unexpected phenomena of the future, as well as their potential impacts on our lives.
The exhibition will feature interpretations of potential futures by seven creative professionals. Their works will offer us starting points for imaging different types of worlds and challenging existing expectations. Contributing will be graphic designer and artist Kiia Beilinson; designer Pasi Kärkkäinen-Tunkelo; video artist Irene Suosalo; sculptor, media artist Pekko Vasantola, industrial designer Dario Vidal, and founders of Femma Planning, planning specialist Efe Ogbeide and urban planning specialist Milla Kallio. The works of the exhibition will approach the future with the help of six themes: at work, at home, nature, city, decision-making and the metaverse.
Contributing artists
Kiia Beilinson
Theme: Nature
Kiia Beilinson (b.1986, she/they) is a graphic designer and artist who works as a freelancer in multiple fields, mostly art and culture. Her practice is rooted in communal and feminist approaches that strive for equal, decolonial and environmentally ambitious futures. She has recently been fascinated with posthumanism, interspecies communication, relationships and rest. The working group of this piece involves performance artist Teo Ala-Ruona, poet-artist Kihwa-Endale, sound artist Sophia Mitiku and writer-dramaturg Michelle Siriya Orenius. Photo: Kiia Beilinson.
Femma Planning
Theme: At work
The FEMMA Planning agency specializes in urban planning. Femma Planning is steering its operations into a more holistic direction, seeking to find extensive solutions for complex questions while taking into account both the Earth's carrying capacity and social justice. A more comprehensive change is needed not only in our lifestyle but also in urban planning, and FEMMA Planning wishes to be a part of this change with its practice. FEMMA Planning consists of planning geographer Efe Ogbeide (MA) and urban geographer Milla Kallio (MA).
Photo (left): Efe Ogbeide, photographer Milla Kallio. Photo (right): Milla Kallio, photographer Efe Ogbeide.
Pasi Kärkkäinen-Tunkelo
Theme: City
Pasi Kärkkäinen-Tunkelo is a versatile designer who works across multiple fields of design. Kärkkäinen-Tunkelo employs a number of different materials and production techniques in his works. He often works in collaborative projects with artisans and interior designers and likes to create unique items for different interiors, including lamps and ceramic objects. Photo: Heli Blåfield.
Irene Suosalo
Theme: Home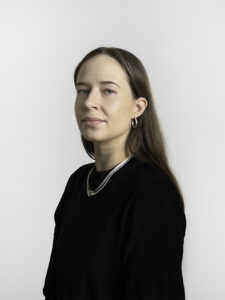 Irene Suosalo (b.1995) is a video artist mainly focusing on experimental animation. She studied photography at Lahti University of Applied Sciences – Institute of Design, but her focus started to shift into moving image already while pursuing her studies. In her working process, she explores new and old methods of animation and mixes them together. The process combines drawing and manual work and computer programs and video synthesisers. She focuses on playfulness and being timeless and experimental. The process often starts with simple elements that take on a new form through trial and error. Photo: Tuukka Tammisaari.
Pekko Vasantola
Theme: Metaverse
Pekko Vasantola (b.1994) is a visual artist based in Helsinki, Finland. He graduated from Turku Arts Academy in 2019. He is currently finalizing his studies for Aalto University's Master Program in Visual Cultures, Curating and Contemporary Art. Common themes in his work include personal data, new technologies and portraiture. He often makes data-based portraits that reflect on today's technologically-enhanced perception. The media he uses range from granite sculptures to AI software and on to cell culturing and bioprinting. Photo: Sofie Wikström.
Dario Vidal
Theme: Decision-making
Dario Vidal (b. 1988) is an industrial designer (MA, Aalto University) who takes advantage of many types of digital tools, including algorithm programming and 3D modelling. Vidal's extensive portfolio contains designing exhibitions, products and furniture, graphic design and installations. His works have been exhibited in Stockholm, Milan, Vienna and Helsinki. Photo: Antonio Gurrola.
Photo: Visual identity Good Kombo, font Schick Toikka.