30 Jan – 16 Sep 2018
Curated by Daniel Golling and Gustaf Kjellin of Sweden, Back to the Present, will open on Tuesday, 30 January, in the Changing Room of Design Museum's collections exhibition. The curator duo is known their Summit web platform with which they produce exhibitions, a series of books and podcast discussions on contemporary design. Their exhibition at Design Museum takes a pamphlet-type look at the history of Finnish product design, which they claim was once a forerunner in its field, but now appears to be suffering from some kind of stagnation.
The main message of Daniel Golling's and Gustaf Kjellin's exhibition is that contemporary Finnish design has lost its national language of form. The idiom has been lost, because contemporary design relies too much on the past and is incapable of sufficient renewal. The world has changed but a wooden stool almost eighty years old and a glass vase of the same age still represent Finnish design to many people. Golling and Kjellin maintain that hanging on to the iconic design products of the past creates the impression of a recurring nostalgia trip to the past, where only the changing colours of familiar objects represent something new.
'Finnish designers should follow international impulses'
In their curated exhibition, Golling and Kjellin use design objects to chart successful examples of Finnish product design that could also serve as examples for today's designer generation. They claim that the direction of contemporary design has been shown by Artek established in the 1930s, Iittala with its responses to the world-wide emergence of plastics, Snowcrash created amidst the digitisation of society, and the One Nordic Furniture Company founded in the 2010s.
In these examples, foreign trends and styles merge with domestic materials and design skills, to create unique combinations. The showcased products also point to solid cooperation between designers and companies. The response to new manufacturing techniques and a modernising society has been a functioning cooperation leading to objects and furniture that are innovative and interesting, and will optimally stand the test of time.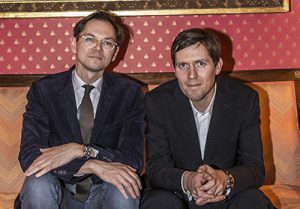 Golling and Kjellin regard the examples of design showcased in the exhibition as good answers to the question of what traits are needed to shift the focus of Finnish design back to the present and the future. Although it is important to solve practical problems of design in a changing world, product development should have a strong presence.
According to them, one way to return product design to the present could be the following: It is good for designers to seek inspiration from history for their thinking but not for the actual design language. International trends and impulses need to be followed inquisitively and applied to suit one's own starting points.
The public opening of Back to the Present will be held on Design Evening 30 January from 5 to 8 p.m. at Design Museum. The curators will speak at 6 p.m. Free entrance.

Back to the Present, 30 January – 17 September 2018
In Changing Room in Design Museum's collections exhibition
Design Museum's collections exhibition Utopia Now – The Story of Finnish Design includes a space for temporary exhibitions providing variety to the permanent exhibition.
Photos:
1. Ilkka Suppanen ja Pasi Kolhonen – Airbag (1997). Kuva: Snowcrash 2. Monica Förster – Cloud (kannettava ja puhallettava huone 2003, valmistaja nykyään Offect) Kuvaaja: Offecct.
3.Daniel Golling och Gustaf Kjellin / Summit, kuvaaja: Summit.