Habitare, the largest furniture, design and interior decoration event in Finland, has invited two international quests David van Severen and Jonathan Olivares to Finland.
Severen and Olivares will also visit Design Museum – come and meet them at the Aalto lectures!
Wednesday 13.9. at 12.30
Architect David Van Severen
Title: OFFICE Kersten Geers David van Severen"Everything Architecture"
Friday 15.9. at 14.00
Industrial Designer Jonathan Olivares
Title: "Recent works"
Lectures will be in English.
Produced in collaboration with Aalto Department of Design.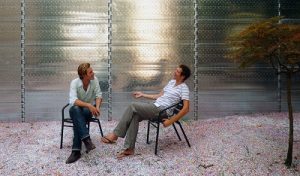 David van Severen Everything Architecture.
OFFICE's retrospective 'Everything Architecture' was organised in the antichambres of the Victor Horta-designed BOZAR arts centre in Brussels in 2016. Afterwards it moved to Centre d'architecture arc en rêve in Bordeaux, and to the AA School in London. The point of departure is the idea that each of the products of OFFICE is considered a project in itself. Models, drawings and perspectives populated the antechambers of the Centre for Fine Arts as individual objects, together with works of art that are related to the spirit and language of OFFICE. In this field of objects, sculptures are considered as compagnons de route to the architectural production. Paintings and photo's enforce or break the different antechamber perspectives and search for dialogue.
Jonathan Olivares (b.1981) is the head of Jonathan Olivares Design Research (JODR), a design consultancy which he established in 2006 with the aim of stimulating the product design process through research and writing. He is a respected product designer in his own right and has designed a number of pieces of furniture for Knoll, Danese and Driade amongst others. Jonathan Olivares is the author of A Taxonomy of Office Chairs , (Phaidon)a rich visual investigation on the development of one chair typology.