Friday 2nd March, at 15-17 at Design Museum Helsinki
Free entrance for teachers/Vapaa pääsy opettajille, program in English
Join our afternoon event with experts within the fields of education, design and technologies to discuss the future of learning. What are the new ways of teaching with digital technologies? The afternoon event gives a platform for discussion on new ways of teaching and talking about digital technologies and design practice within the school and museum context. Design is moving from physical to immaterial. It is time to bring together diverse perspectives on technological learning tools. The talks will present examples of learning with augmented reality, virtual reality, 3D printing and robotics.
The event is organized in collaboration with the Fulbright Finland specializing in academic exchanges between Finland and North America.

Jaana Brinck
+Andscape: Augmented reality sandbox for early childhood learning
Jaana Brinck is a Ph.D. candidate at Aalto University, Departments of Art and Media. She is part of Media Lab's Learning environments research group, LeGroup. Her study explores pedagogical aspects of design in real-life educational context by conducting several iterative design experiments highlighting participatory design in pedagogical development and creative use of technology. Her experience in the field of art and design includes community art projects, participatory design projects, public art commissions and international exhibitions. Currently she is teaching at Aalto University.
In her presentation she will talk about +Andscape: Augmented reality sandbox for early childhood learning. The talk focuses on creative play with technology, participatory design and the new curriculum of Early childhood education and care in Finland.

Sam Northern
Encountering Phenomena with Virtual Reality
Sam Northern is an elementary school teacher-librarian in Franklin, Kentucky. He is a participant in the 2018 Fulbright Distinguished Awards in Teaching Program. His research at the University of Helsinki focuses on best practices of phenomenon-based learning. In 2014, Sam spent four weeks in China on a Fulbright-Hays Summer Seminars Abroad Program. Since then, he has voyaged to Antarctica as a National Geographic Grosvenor Teacher Fellow, worked aboard a research vessel as a NOAA Teacher at Sea, and explored nature in Yellowstone National Park as a National Endowment for the Humanities Scholar.
His talk is about how VR enables experiential learning by simulating real-world environments. 3D immersion has the ability to change students' outlook on the world and their place in it. The possibilities of where students go and what they do are endless.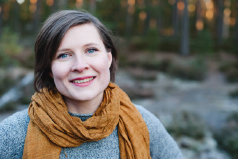 Laura Euro
Design, make and learn using 3D technologies
Laura Euro, Customer Success Lead, 3DMultitalent with several years of experience in Service Design, Design thinking, Pedagogy and Customer Service. Has written a book about Design Thinking and posesses vast experience from, among other things, as Researcher in Helsinki Education Council and City Designer for City of Helsinki and Board Member of Aalto University Student Union.
3DBear helps create a learning environment in which people can learn 3D thinking in the class room with help of 3D printing, Virtual Reality (VR) and Augmented Reality (AR) – the skills that make them prevail in 21st century.

Aulikki Flagan
FIRST Robotics
Aulikki Flagan is a high school science teacher in Alhambra California. She received the Fulbright Distinguished Teaching Award grant to come to Finland to study the Finnish Education system. She has 27 years of experience in teaching Biology, Chemistry, Physics, Engineering and Environmental Science. She also runs several after school science competition programs: Robotics, Science Olympiad, and Popsicle Bridge Building as well as does outreach programs to neighboring elementary and junior high schools to excite younger students about science and engineering.
Her presentation focuses on the FIRST Robotics, a high school program where students have 6 weeks to build a working robot that plays sports in competition against other high schools in US and around the world.